Property Management System
Reservation, billing, marketing and more! Hotels, motels and resort managers need to focus on multiple things to keep the property running smoothly.
With a good Property Management System, make your life easier by managing everything in one place.
A Property Management System, sometimes called a Frontdesk System, also helps you track housekeeping schedules and maintenance requests, providing a complete picture of what's going on.
What is a Property Management System?
A Property Management System, or a Hotel Management Application, is an application providing the right set of tools to manage a hotel's day-to-day operations. From check-ins and payment processing, to handling special offers and room rates, a PMS allows you to keep things in order.
Also called Property Management Software, Hotel Operating System, Hotel PMS System and Property Management Solution, it helps you effortlessly manage housekeeping operations, and even extract financial reports.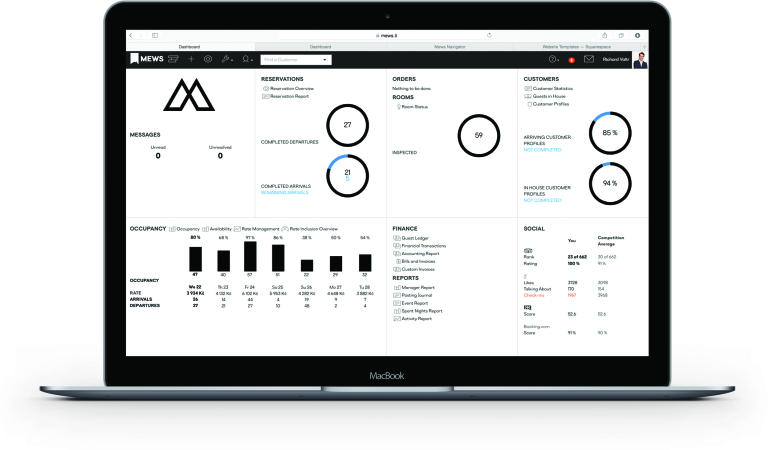 There are many platforms in the market and it can be tedious to choose the right management system for your hotel. Luckily, that's what we're here for!
By choosing the right Hospitality Software, hospitality businesses can easily, effectively and efficiently manage administrative tasks, such as front desk operations, reservations, billing, housekeeping, online booking, room assignments and guest services.
A good Property Management Software lets you automate tasks, including marketing, booking and billing for several property types, effectively speeding up the overall processes, booking count, guest communications, and of course, the revenue.
Why use a Property Management System for your Hotel?
Improve Guest Experience
Leverage mobile bookings, and technology-facilitated express check-ins and check-outs to improve guest experience.
Better guest experience is the foundational pillar of growth for any business in the hospitality industry, small and big.
Save time with Frontdesk Operations
Save hours on administrative tasks that can be automated with software. Billing, marketing, guest communications and more.
Manage everything online, and make it easier for your guests as well as staff members.
Manage Online Distribution
Integrate the Property Management Software with OTAs and GDSs to seamlessly increase visibility of your property.
With a single booking system, you can avoid duplicate bookings, while being present on multiple distribution channels.
Better Manage Revenue
Implement data-driven revenue management strategies while tracking KPIs, such as revenue per available room, and more.
Using insights from the PMS, you can create a flexible pricing strategy, allowing you to maximize revenue.
Top Features of all-in-one
PMS Solutions
Reservation Management
Front desk management: Check-ins, check-outs, room-related requests, reservation changes and more.
Track room allocation and reservations in one place.
Online Booking Engine
Automated reservation management for bookings made via hotel website, OTAs and third-parties.
Avoid duplicates by using a single booking system for all channels.
OTA/GDS Synchronization
Channel Manager integrations allowing you to increase reach and visibility.
List occupancy and rates on several channels, platforms, and third-party booking partners.
Intelligent Pricing
User-friendly modules for flexible and dynamic pricing to impact revenue.
Create room rates with ease, and apply different policies and restrictions seamlessly.
Comprehensive Reporting
Track outstanding payments and revenue forecasts using several accounting tools.
Get detailed operation, marketing and financial reports ensuring better planning.
Housekeeping Management
Organize maintenance reports to easily delegate tasks to housekeeping and maintenance.
Track the status of each room to improve guest experience and faster check in process.
Cards Payments
Validate credit/debit card details instantly when guests book online. Take full payments if you want to.
In case of non-payment, track and manage outstanding charges easily.
POS Integration
Integration with POS allows you to track and manage transactions during the client's stay.
Seamlessly manage payments at the restaurant, gift shop and other facilities on-site.
Door Access Control
Make it easy for guests to check-in to their rooms and improve safety on-site with smartlocks.
Manage room change, cancellation and guest access automatically.
Mobile App
Mobile app allows guests to book add-ons from mobile phones and tablets.
Most consumers use mobile phones to manage their bookings and their trip.
Multi Property
Manage multiple properties with one global Property Management Solution.
Track processes and progress of several property types effortlessly, while increasing visibility.
Group Reservations
Large groups, office retreats and MICE bookings are a huge market to pay attention to.
Tap into potential bookings with a good property management system.
Hundreds of Property Management Systems
and even more features...

We know it can get overwhelming!
Taking your specific needs and budget into account, we can help you choose the right Property Management System for your hotel.
All you need to do is book your session!
Book Now
One to One Technology Advice Session with an Expert
Think About Cost of Ownership
Over the years, technology has revolutionised the hospitality industry. While there are numerous property management software available, it's a complex decision to choose one that meets your business requirements and budget. Once integrated with your property, a PMS will not only affect your staff's tasks, but also provide insights for important business decisions.
Any hotel application is a long-term commitment, and therefore, while evaluating the total cost of ownership, you also need to consider costs related to future upgrades, employee training, software/hardware installation and maintenance.
Consider Setup Cost
Once you've made a choice, you need to consider if it would be cost-effective to let the vendor set everything up. You could even go ahead with a third-party expert.
Setting up a new PMS takes about 2-5 days, depending on number of channels/rates to be connected, existing bookings to transfer, staff training requirements etc.
To make a sale, several PMS providers tell you that the setup is easy and free. The more you hear it, the more you need to be cautious.
Setting up a new PMS will take some effort. The time, cost and labour it takes will depend on the system you choose.
What to look for in your new hotel PMS?
Integration with other software
Look for diverse integration capabilities to avoid siloed tools. Your PMS should be able to integrate with existing systems.
Enquire about integration with customer relationship management software and other property management solutions.
Automation ready
Automation not only reduces manual labour, it also directly impacts revenue. An automation-ready system lets you improve in-person customer service.
For instance, AI chatbots can help you manage requests, offer prompt solutions and avoid delays in responses.
Mobile reservation compatibility
Most consumers use mobile phones and tablets to make reservations. Look for a system that offers mobile booking functionality.
Your PMS should make it easier for customers to book, while streamlining operations on the backend and allowing instant guest communications.
Powerful API
APIs are fundamental in integrating your hotel's systems with other software. With a powerful API, your PMS seamlessly integrates with multiple tools.
To simplify set up and workflows post integration, enquire about the capabilities of the property management system you're planning to purchase.
Find the right solution for your hotel, your team and your guests in our
Partners Marketplace
Only the greatest hospitality only software & services, curated by us.
Featuring exclusive special offers and discounts - only for you!
Browse Marketplace