Hotel Channel Managers - Hotel Channel Management Software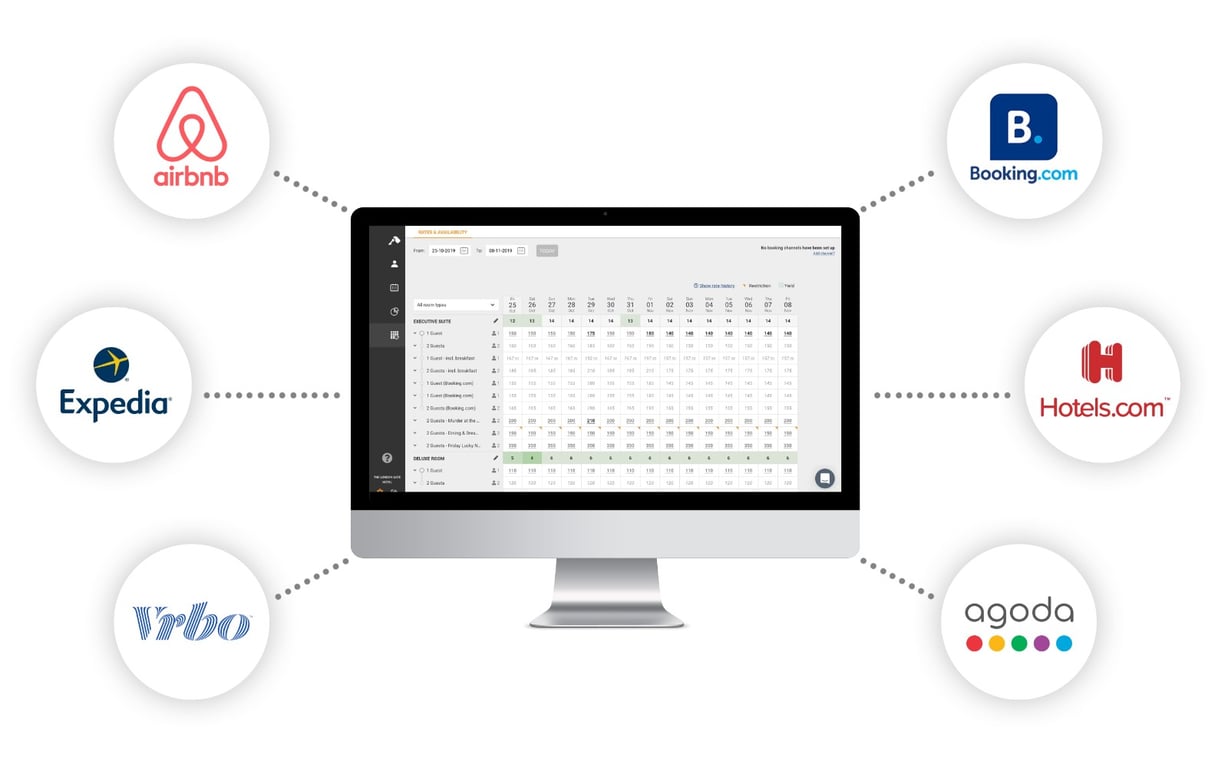 In the highly competitive hotel industry, using channel managers is pretty much a standard practice. Powerful hotel channel management software solutions have become necessary tools to automate room availability, rates, and inventory distribution to Online Travel Agencies, GDS portals and Booking Engines.
In essence, a hotel channel management system serves as a digital control panel, allowing hoteliers to seamlessly manage multiple sales channels from a single dashboard.
So, what is a hotel channel manager? It's your gateway to simplifying complex workflows, reducing human potential for mistakes, and amplifying efficiency. With these tools, hotel owners are better suited to handle the complexities of real-time inventory, allocation and rate management, thereby minimizing risks associated with overbookings and rate disparity.
The best channel managers for hotels also come equipped with advanced features that can significantly impact revenue streams. In summary, hotel channel managers are not just a technological advancement; they're a strategic asset that can greatly influence your hotel's overall profitability.

Sponsored by RateTiger - a HotelMinder Partner
We empower hoteliers with modern technology & expert know-how.
HOT We can help you find the right solution for your hotel needs and budget.
Which one is the best for YOUR hotel?
We're Experts in helping ambitious hoteliers improve key metrics with modern technology and expert know-how.
We can help
The Importance of Selecting the Right Hotel Channel Management Software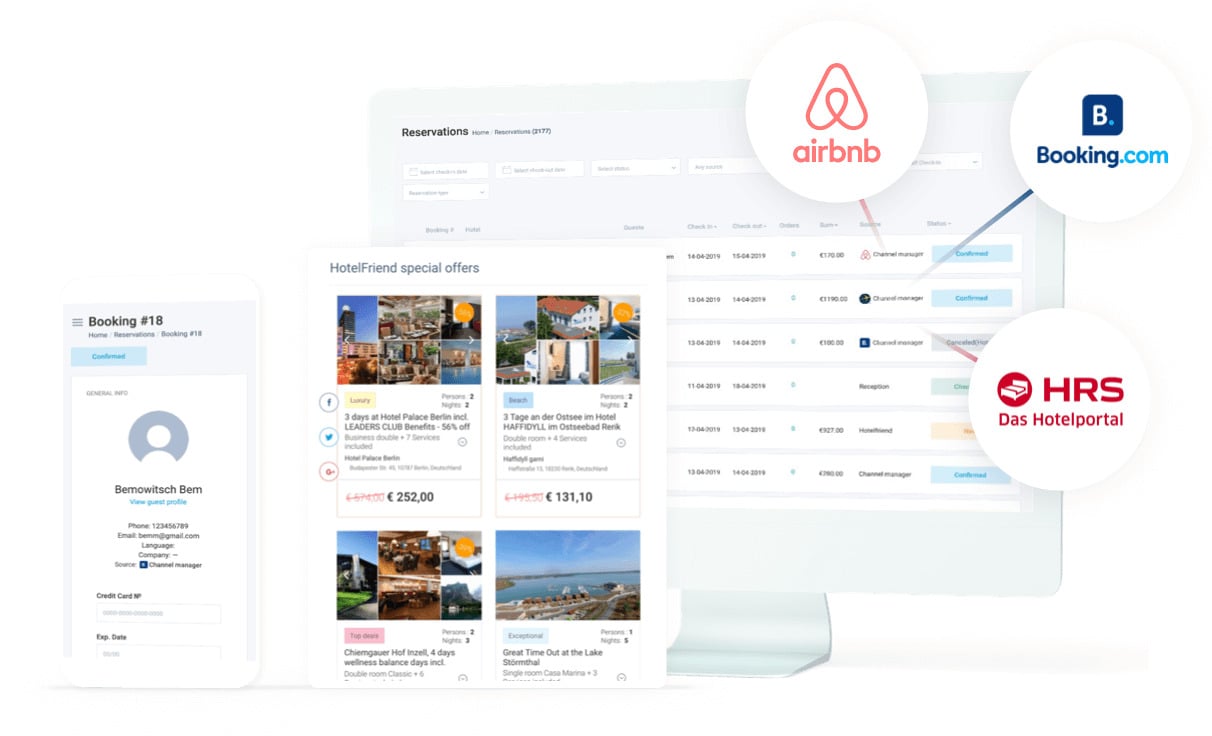 Choosing the most suitable hotel channel management system for a given hotel business is far from a trivial matter. It's a strategic decision that can have long-lasting implications on your hotel's financial health.
In the world of ever-changing guest preferences and unpredictable market dynamics, having the right software is equivalent to wielding a magic wand.
A well-chosen Channel Manager not only will automate mundane tasks but also integrates effectively with your existing hotel reservations systems. This synergy allows for a unified, simplified experience for both staff and guests, enhancing efficiency while boosting revenue.
Streamlining Operations through Intelligent Design
An efficient system should serve as more than just a bridge between your property and potential guests. It should be intelligent enough to automate various operational tasks, thereby freeing up your staff to focus on more strategic activities.
When your channel manager seamlessly connects with hotel reservations systems, you create a centralized hub for all booking-related activities. This allows you to avoid duplications and errors, thereby improving your hotel's operational efficiency.
Maximize Revenue with Robust Features
Generating revenue in a competitive marketplace requires a nuanced understanding of rates distribution and strategies, as well as guest behaviors. The best channel managers for hotels differentiate themselves through robust analytics capabilities.
These platforms offer data-driven insights into booking trends, allowing you to optimize pricing strategies and promotional offers. By leveraging real-time data, you are better positioned to adjust your rates in line with market demand, thereby capitalizing on revenue-generating opportunities.
Features to Look For When Opting for a Hotel Channel Management System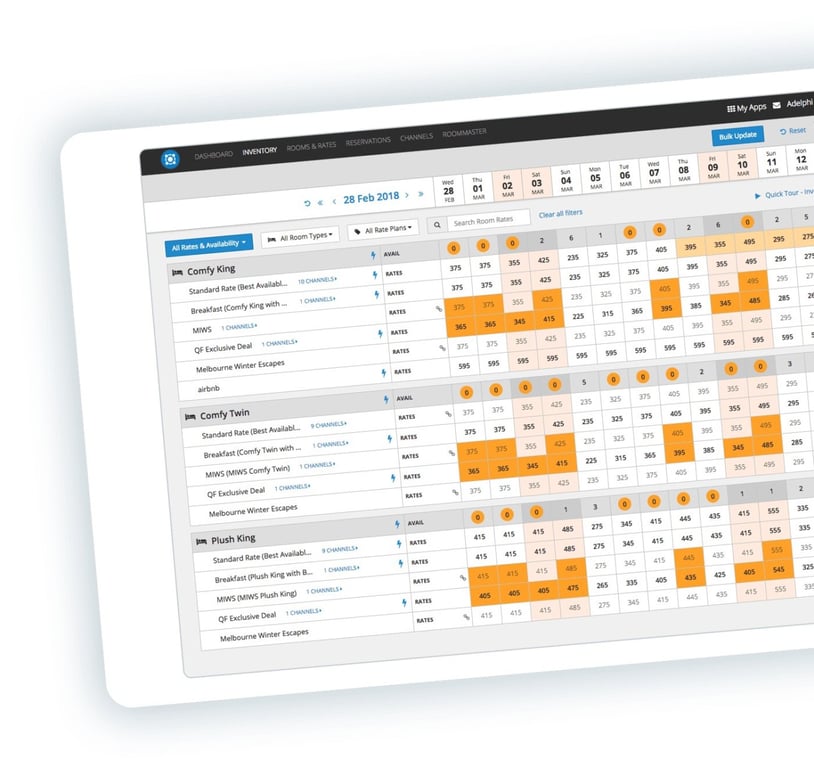 As you wade through the plethora of options available in the market, it's crucial to first understand what to look for in a hotel channel management system. After all, this is a long-term investment that should provide value beyond just the basics!
Usability Is Not Optional
The best designs are the simplest. A clunky, complicated interface is a liability, not an asset. When choosing a channel manager, insist on a system that has an intuitive, user-friendly user interface. This ensures that your staff can adapt quickly, thereby maximizing operational efficiency almost immediately.
The Imperative of Real-Time Updates
A cornerstone feature of any high-quality channel manager is the ability to provide real-time, near instant updates. What is a hotel channel manager if it can't synchronize your inventory and rates across all connected channels instantly?
Real-time rates and availability update functionality is vital for avoiding overbookings and rates disparity across all distribution channels.
Seamless Integration is Non-Negotiable
Finally, your chosen platform needs to be able to integrate smoothly with your existing tech stack, most particularly the Property Management System (PMS). Ensuring a unified operational flow, eliminating friction points and making managing your property's day-to-day activities is essential.
Read more about: Channel Manager Software
Top 10 List of the Best Hotel Channel Manager Systems of 2023
Hotel Channel Management Software - The Complete Guide
How to Maximize your Hotel Online Presence with a Channel Manager
How to Choose a Channel Manager System for your Hotel? Top 10 Tips
Top 5 Features to Look for When Shopping for a Channel Manager
10 Online Travel Agencies You Should Connect to Today
7 Questions to Ask Vendors When Choosing a Hotel Channel Manager
How Much Does it Cost to Use a Hotel Channel Manager?
Top 5 Benefits of Using a Channel Manager at your Hotel
Most Asked Questions about Channel Management Software Terminology
Getting Started with Hotel Distribution Technology: What is a Channel Manager?
Upgrade your business with HotelMinder

Firstly, we assess

We evaluate objective(s), defining opportunities and setting goals.

Then, we plan

We make a plan detailing what should be done to help reach set goals.

Finally, we make it happen

We implement change, as planned, within set timeline and budget.
About HotelMinder Marketplace and its Partners
Partners listings are sorted as per overall performance and is free from any bias. 'Popularity' is calculated regularly and reflects our Partners performances with a clicks to leads to conversions ratio. 'Ease of use' and 'Pricing' are set by us after reviewing products and/or information provided by partners & users. If you buy a third-party product or service from this website, HotelMinder may earn a commission. We use this source of revenue to maintain this marketplace and create educational content. Our editorial team is not influenced by our affiliate partnerships.
HotelMinder partners with many brands, but makes no claims upon their trademarks. All trademarks contained herein belong to their respective owners and registrants.