Rate Shopping & Market Intelligence Software
Marketplace
Rate Shopping and Market Intelligence software allow hoteliers to monitor the target market as per a range of aggregated data points. The objective of such tools is to enable decision-makers and managers to get insights from competitors' pricing data and demand forecasts. Additionally, such systems provide hoteliers and stakeholders with data about local events, weather forecasts, holiday calendars, and other factors that could impact demand.
New marketplace version coming soon: we don't rank, we match hoteliers
with the right technology & services. Register interest or join us now!
New marketplace version coming soon: we don't rank, we match hoteliers with the right technology & services. Register Interest or Join us now!
Why Do You Need Rate Shopping & Market Intelligence Software?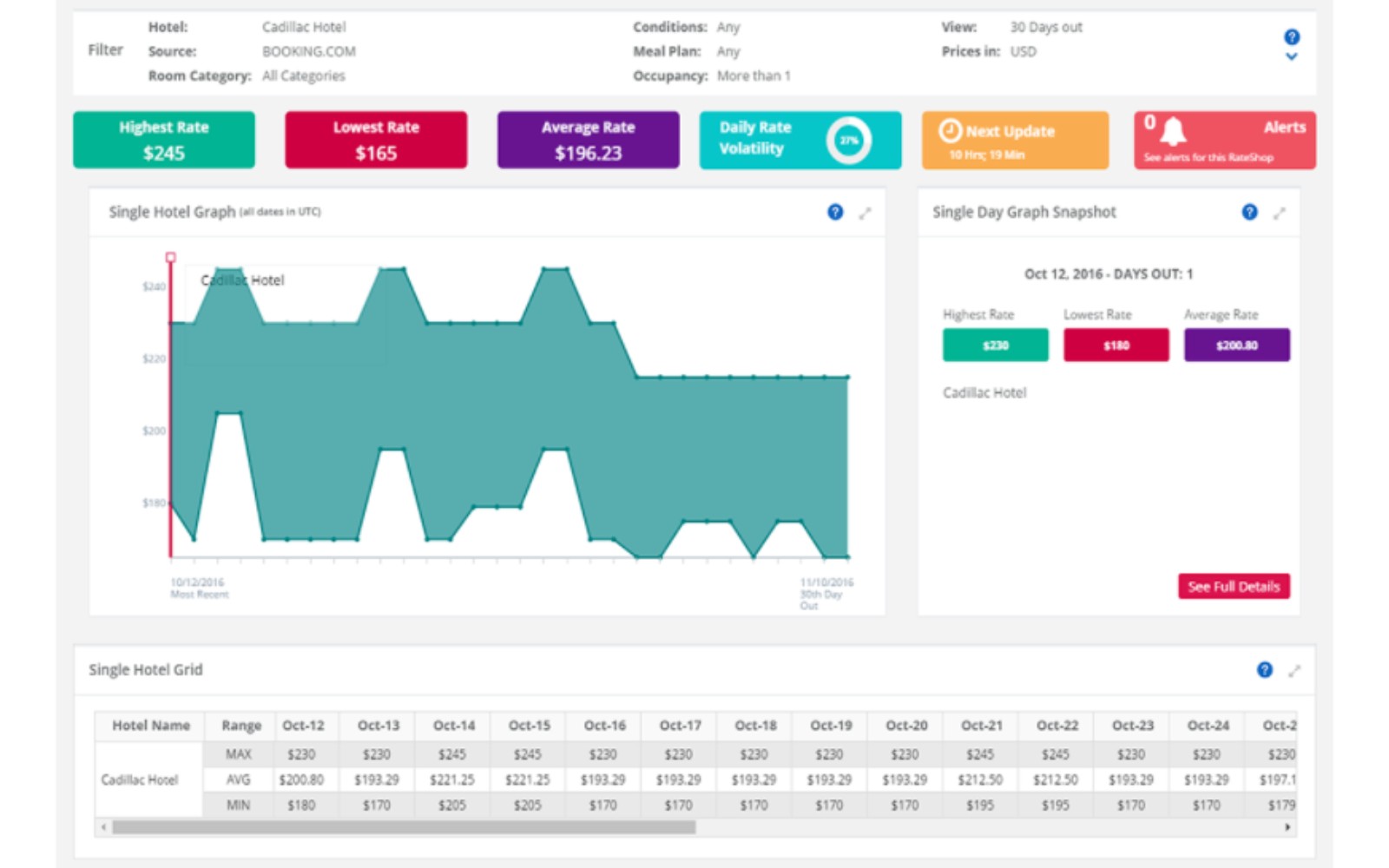 With a good Rate Shopping & Market Intelligence software, you can optimize revenue, distribution channels, and occupancy. It helps you make informed decisions to craft a comprehensive revenue strategy in line with evolving market trends.
Additionally, the tool helps aggregate competitors' pricing and gather data about important factors affecting demand and sales. With real-time and accurate data, hoteliers can build a sound strategy about the property's overall positioning.
How to Get Started with Rate Shopping & Market Intelligence Software?
Implementing a Rate Shopping & Market Intelligence software can take up to 2 days until a hotel owner can conduct an in-depth analysis. It is also important to provide training sessions to the staff or help them with some tutorial videos to customize the tool as per their needs.
Getting the right assistance is important, and it is better to let a team of experts manage the on-boarding and implementation process.
Start with a Consultation with HotelMinder Experts
HotelMinder has a global team of experts working in the hospitality industry for many years. Our combined experience in operations, sales, marketing, and technology helps us guide our partners to the best tools and solutions available to increase revenue. We take a comprehensive approach to deliver on our promises, and offer multiple solutions, depending on partner budget, requirements, objectives, and goals.
Tailored Hotel Management — our affordable and comprehensive tailored management service is designed for small and medium sized independent hotels and hotel chains to help them achieve defined objectives.
Planning & Implementation — we help you set up the right objectives, define needs, upgrade your existing technology solutions, start marketing campaigns, give insights on current industry trends, conduct audits of your property's technology and operational status, and provide a comprehensive roadmap to achieve goals.
Partial or Complete Health Audit — our health audits offer a holistic view of your hotel marketing, operations, strategy, and technology. Assessed by industry experts, our audits help you get strategic data of business KPIs, tailored to your specific requirements.
1-to-1 Expert Session — indulge in a consulting session with experienced hospitality consultants, including HotelMinder's Co-founders. The rich expertise and a talented pool of industry veterans can help you start a new project, choose an application or service, solve a problem, or get insights on marketing, revenue, operations, and technology.
When you get started with HotelMinder, we guide you to the right path, manage the project, tailored to the category of services you require. With a detailed Planning & Implementation phase, we make sure all your expectations our met in the most efficient and timely manner.
At HotelMinder we partner with passionate industry leaders to transform hospitality by providing innovative products and services to properties across the globe.
Taking your specific needs and objectives into account we will help you, the hotelier, maximize performance & satisfaction.
Success is at your fingertip.
Contact Us
Partners listings are filtered and ordered as per overall performance and is free from any bias. 'Popularity' is calculated periodically and reflects clicks to leads to conversions ratio. 'Ease of use' and 'Pricing' are set by us after reviewing products and/or information provided by partners & users. Listings are listed hierarchically by: 'Popularity' then 'Ease of use' then 'Partnership Level'. If you buy a third-party product or service from this website, HotelMinder may earn a commission. We use this source of revenue to create content. Our editorial team is not influenced by our affiliate partnerships. HotelMinder partners with many brands, but makes no claims upon their trademarks. All trademarks contained herein belong to their respective owners and registrants.