Hotel Reservations Systems — Website Booking Engines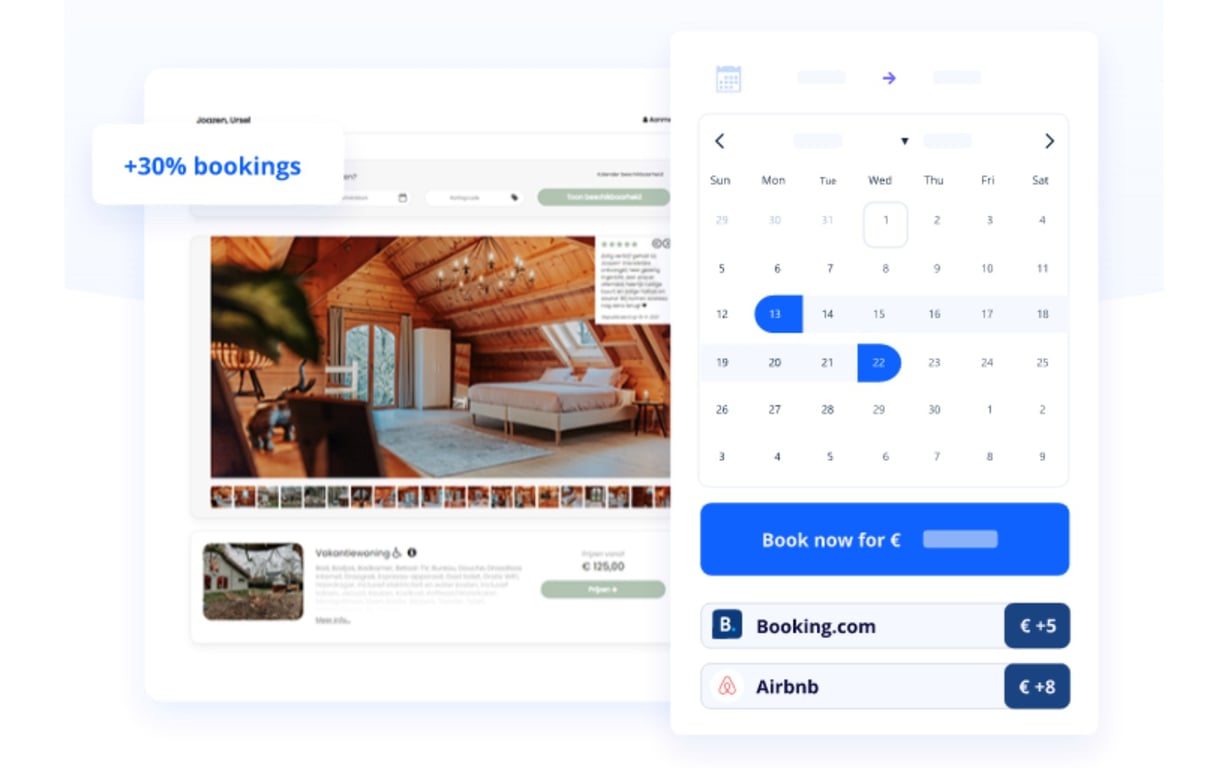 In an era where technology is integral to hospitality, hotel reservations systems have moved far beyond mere room allocation. They now offer a dynamic, interactive experience right on your hotel's website through specialized booking engine software. A booking engine is not just an add-on but a pivotal element that can transform your website into a powerful, commission-free sales channel. Seamlessly integrated, it allows potential guests to check real-time room availability, explore amenities, and eventually complete their reservation without third-party intervention.
Hotel booking engines bring a level of automation and ease that's indispensable in today's industry. They serve as one component of your broader hotel booking systems, which might also include payment gateways and real-time inventory updates. These systems are crucial for ensuring a smooth, end-to-end booking experience for your guests. And while a booking engine is essential, comprehensive hotel booking softwares offer additional features that can significantly contribute to revenue generation.
The digital transformation has also elevated the significance of online hotel booking systems. These online systems extend your reach, making your rooms accessible to a global audience. They've become a cornerstone in crafting a guest experience that begins long before a visitor sets foot in your hotel.
We empower hoteliers with modern technology & expert know-how.
HOT We can help you find the right solution for your hotel needs and budget.
Which one is the best for YOUR hotel?
We're Experts in helping ambitious hoteliers improve key metrics with modern technology and expert know-how.
We can help
What Are Hotel Booking Engines?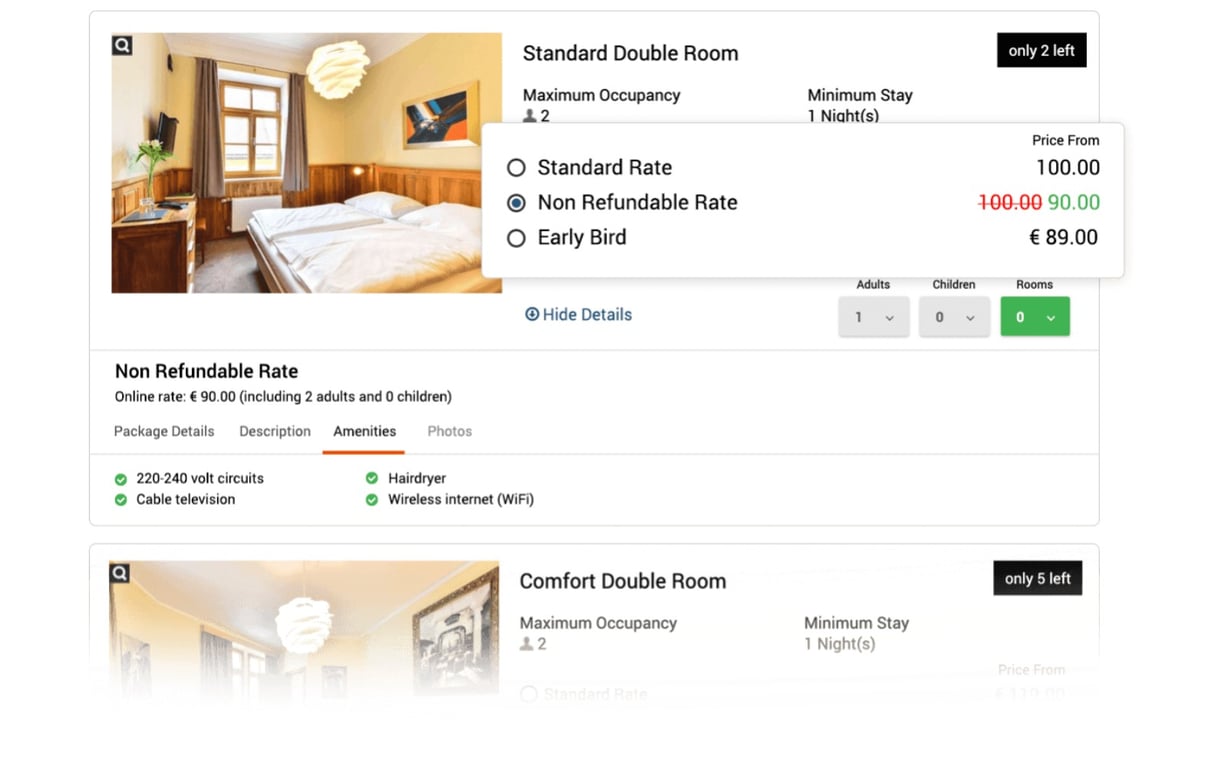 Hotel booking engines are specialized applications integrated into your hotel's website to facilitate direct bookings. They serve as your digital, online front desk, offering real-time room availability and pricing information to prospective guests. Website Booking Engines empower you to capture reservations directly, bypassing the need for third-party channels that often take substantial commissions.
But the advantages don't stop at saving money. Hotel booking engines also offer real-time updates on room availability, thereby minimizing overbookings and simplifying inventory management. They are a quintessential component of a modern hotel reservations system, turning your website into a dynamic, user-friendly hub for direct customer engagement.
Features to Look for in Hotel Booking Systems
When choosing hotel booking systems, it's crucial to focus on a set of indispensable features. A user-friendly interface, marked by intuitive UI and UX design, is essential to streamline operations for your staff and offer a seamless experience for guests. Additionally, a system with multiple payment gateways is advisable for providing transactional flexibility to accommodate various customer preferences.
Pay close attention to how well the booking system integrates with your existing hotel tech stack, such as your Property Management System (PMS) and Channel Manager. These integrations are vital for a cohesive and efficient operational workflow, ensuring real-time data synchronization and reducing manual data entry errors.
Why Hotel Booking Softwares Are Key to Revenue Generation
The use of hotel booking softwares goes beyond mere convenience; they play a significant role in maximizing your revenue. Advanced features like dynamic pricing can be integrated through hotel Revenue Management Software (RMS). Most Booking Engine Software solutions also provide invaluable analytics, giving you insights into booking trends and guest behavior.
The Importance of Online Hotel Booking Systems
Online hotel booking systems are not just a digital version of your front desk; they are a vital part of your overall marketing strategy. With an online system, your hotel is open for business 24/7, allowing you to reach a global audience without geographical limitations. They also offer the possibility of integration with other digital marketing tools, enhancing guest experience from the first click to check-out.
Choosing the Right Hotel Booking Software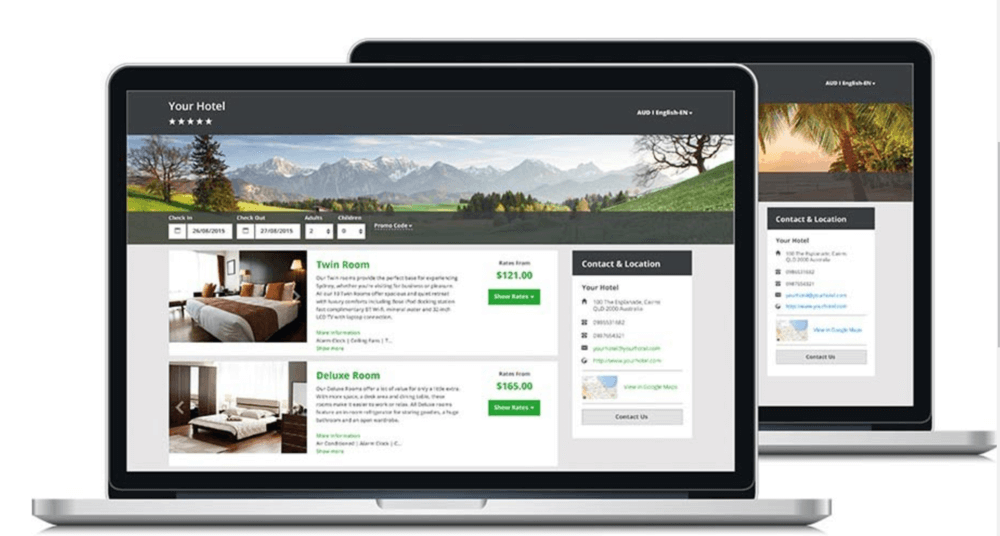 Selecting the right hotel booking software is a critical decision that can profoundly impact your hotel's operational efficacy and guest satisfaction. Given the myriad of options available, from comprehensive hotel management suites to specialized hotel booking tools, making the right choice can be daunting.
It's essential to opt for hotel booking software that closely aligns with your property's unique needs — whether that means ease of integration with existing hospitality software like your Property Management System (PMS) or more specialized features like dynamic pricing.
Make sure to evaluate your hotel's specific requirements, and consider taking advantage of free trials or demos to make an informed choice.
Elevating Guest Satisfaction through Online Booking Systems
Online hotel booking systems serve as much more than just reservation conduits; they're enablers of an elevated guest experience.
These systems offer a streamlined booking process that allows guests to explore room options, customize their stays, and even make special requests. By reducing friction in the booking journey, you're setting the foundation for higher levels of guest satisfaction.
Maximizing Efficiency with Hotel Booking Softwares
Efficiency is not just a goal but a necessity in the realm of successful hotel management. Hotel booking softwares provide a plethora of features that extend beyond just reservations. They offer automated check-ins, real-time room availability updates, and seamless integration with hotel Revenue Management Systems (RMS).
Read more about: Booking Engine Software
10 Essential Tips for Selecting the Perfect Hotel Booking Engine for Your Property
Top 10 List of the Best Hotel Website Booking Engine
10 Online Travel Agencies You Should Connect to Today
Popup on your hotel website to increase direct bookings
Top 10 Most Important Features & Functionalities of a Hotel Booking Engine
Upgrade your business with HotelMinder

Firstly, we assess

We evaluate objective(s), defining opportunities and setting goals.

Then, we plan

We make a plan detailing what should be done to help reach set goals.

Finally, we make it happen

We implement change, as planned, within set timeline and budget.
About HotelMinder Marketplace and its Partners
Partners listings are sorted as per overall performance and is free from any bias. 'Popularity' is calculated regularly and reflects our Partners performances with a clicks to leads to conversions ratio. 'Ease of use' and 'Pricing' are set by us after reviewing products and/or information provided by partners & users. If you buy a third-party product or service from this website, HotelMinder may earn a commission. We use this source of revenue to maintain this marketplace and create educational content. Our editorial team is not influenced by our affiliate partnerships.
HotelMinder partners with many brands, but makes no claims upon their trademarks. All trademarks contained herein belong to their respective owners and registrants.