Maximize your hotel online presence with a Channel Manager
Are you spending hours answering emails about your room availability and rates to potential guests?
Do you feel you are wasting time by manually updating your hotel availability on Booking.com, Expedia.com or even Airbnb?
Do you occasionally get overbooked because you forgot to close sales on Booking.com?
Do you occasionally get a little lazy (or simply don't have time) to add more rooms available to sell on a specific channel?
You're not the only hotel manager facing these daily challenges! There is, in fact, one simple key tool that can help you with all of this, that many hotels have already adopted. It's called a channel manager!
Table of contents for this article:
What is a Channel Manager?
Your "channels" are all the different websites from which travelers are able to book rooms in your hotel. It can be a direct channel like your own hotel website, or it can be an indirect channel like OTA's (Online Travel Agencies). OTA's are common, and there are many on the internet; the most famous ones being booking.com, expedia.com, agoda.com or airbnb.com.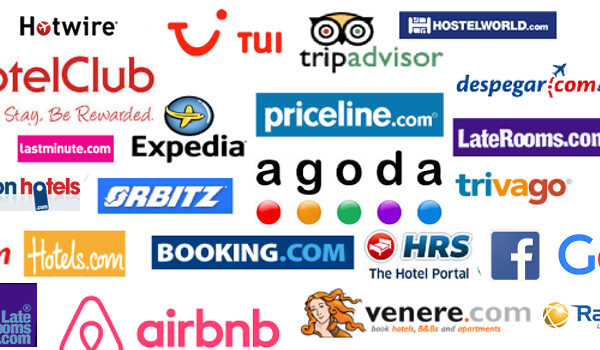 A Channel Manager is an online cloud-based technology solution. This means there is no software to install on your computer, it all happens through a website. A channel manager allows you to centralize on a unique platform and calendar the daily management of your hotel distribution channels, mainly to:
close and open sales (manually or automatically),
change rates and booking restrictions (like minimum length of stay).
Most channel managers also provide a booking engine solution within their functionalities package. A booking engine, also called a booking button or a "book now" service, is a tool provided by your channel manager allowing travelers to check availability, rates and to book rooms directly on your website.
It is usually very easy to implement: All you have to do is copy-paste an html code into one of your website pages (or sometimes to install a plug-in), and voila, the booking button will appear! Some channel managers even offer a booking button tool for your Facebook Page.
Ready to take your hotel to the next level?
At HotelMinder we take care of your property online so you can focus on your guests.
Get in touch
Benefits and advantages of using a Channel Manager
Save Time and increase Revenue!
Centralize and automate recurring tasks:
No need to log-in to each extranet of each OTA one by one.
Update rates and inventories in one click on all channels, or even automate it.
No need to copy guests' booking information: if you link your channel manager to your Property Management System, the information arrives directly into the system (read our article: What is a Hotel PMS and why use one?)
Guests can check availability and rates by themselves on your website: less emails to reply to.
Increase your Revenue!
Boost your occupancy and daily rates by:
Using revenue management basic techniques: adopt a dynamic pricing strategy, start "playing" with rates and length of stay restrictions.
Increasing your online visibility and take advantage of the Billboard Effect: sell more rooms by connecting to new Online Travel Agencies websites (bear in mind that availability and rates are now automatically updated between them so there is very little additional work).
Allowing guests to book directly through your hotel website by using a website Booking Engine: pay less commissions.
Gain Efficiency!
Optimize your reservation process:
Adjust inventories on real time automatically: no over-bookings.
Avoid human mistakes by automating recurring tasks.
Track your performance, get statistics, adjust your actions.
Which Channel Manager provider to choose?
Search for "hotel channel manager" on Google. You will be amazed to see how many of them are available online!
Which one to choose?!...
We invite you to browse through the list of our Partners Channel Managers to see which one(s) could be a good fit for your property.
We also invite you to read the following article : 10 tips to help you choose the best channel manager.
Or contact us directly to help you choose the most suitable solution adapted to your hotel's specific needs and budget.
---
From her small village in the French Loire Valley, Florie was dreaming of traveling across the five continents. She took the opportunity of studying marketing and international business to escape to Russia and Germany. She then specialized in hospitality management through a Master degree from La Rochelle Tourim Business School.
Most Popular
---
Newsletter
Sign up for our newsletter to receive more articles like this one directly in your Inbox!
Subscribe
---
Tags
News & Articles
Read our latest news & Articles
In depth articles, guides, tips and advice about marketing your hotel business online and sell more rooms directly on your website.
8 simple tips for a great hotel website
Read More
Four basics steps to get your hotel on TripAdvisor Reviews
"TripAdvisor is the equivalent of word-of-mouth but on the Internet. Travellers use it to compare and choose what to do, where to eat and sleep. Would you like to get your hotel well ranked on TripAdvisor? "
Read More
GDS, OTA and Meta: What's the difference?
Read More
What is a Hotel PMS and why use one?
"A hotel PMS is a solution developed specifically to replace those complex Excel sheets you've been using to manage your daily hotel bookings, room inventories, billing, etc. There is a vast amount of PMS providers..."
Read More
Wait! Before you go:
How about getting our next post directly to your inbox?
We will only send you interesting and well written emails, once a month at most. We guarantee that you will learn from it!