Identify, segment and target your hotel customers
Having a good understanding of who your potential customers are is vital to pinning down their specific needs and creating an adapted communication strategy.
In this article I will help you list the key market segments identifiable for your hotel's BCG matrix and ask yourself the following questions to help you prioritise and make the right choices:
Table of contents for this article:
1. Where?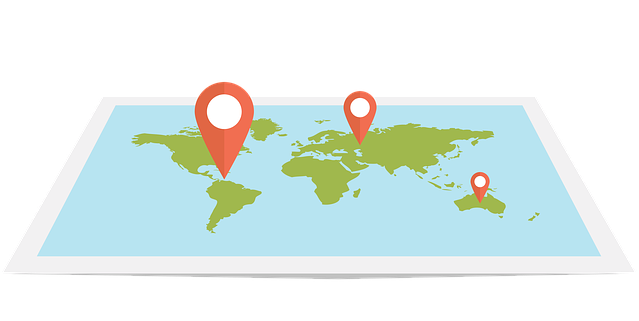 Where are your hotel guests from?
How far do they travel to reach your destination and hotel?
Are they local, regional, national, international?
If international, which country are they from?
Which language(s) do they speak/ understand?
2. Why?
Why do your customers choose your hotel for their stay?
Do they come for business or leisure?
If they're coming for leisure, what kind of experiences do they seek?

Rest/relaxation,
to practice sports,
share quality time with their friends/family,
to meet new people,
to learn and discover a new language/culture?

If they're coming for business, where are their headquarters/clients/suppliers located?
3. Who?
At which stage of their lives are they?
Teenagers,
students,
active young adults,
young couples with or without children,
families,
active seniors,
retired?
What is their purchasing power?
Low budget,
comfort,
high-end,
luxury?
4. How many?
Are they travelling solo, in couples, small or large groups?
Which kind of groups do you receive?
Friends / families,
clubs / associations,
seminars / team-building?
Ready to take your hotel to the next level?
At HotelMinder we take care of your property online so you can focus on your guests.
Get in touch
Identify your hotel's priority customer segments
Make a list of all the relevant market segments and classify them in one of the four quadrants of the BCG matrix to set your priorities.
BGC Matrix for Hotel Marketing Managers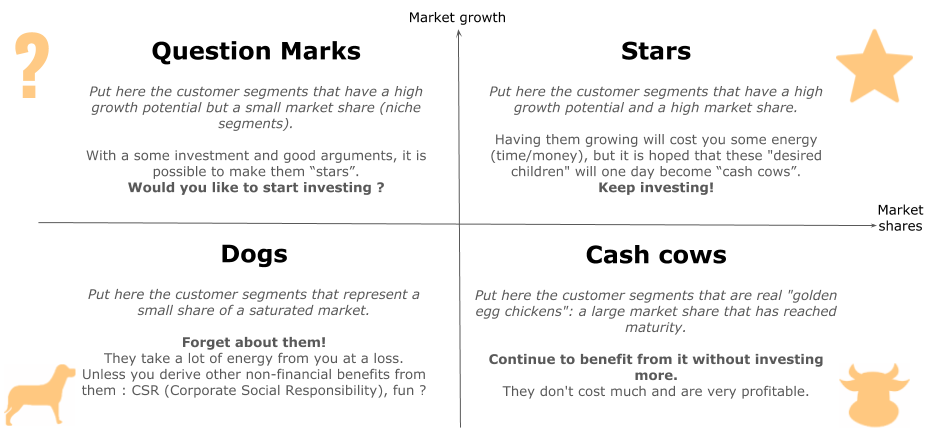 Download our BGC Matrix for Hotel Marketing Managers as a PDF file, Microsoft PowerPoint file, or ODP Document file (compatible with Open Office). You can also access our Google Drive version of the file that you can add to your Drive and edit directly.
Also, ask yourself the following for each key hotel customer segment:
Is there a specific period in which they prefer to plan and book their trip?
How long do they usually stay?
Which days of the week?
Which time of year?
What are their specific needs?
Do you have all the corresponding features in your hotel to ensure their satisfaction?
Identify your hotel's priority customer segments
By attracting the right customers and having a good mix of the different market segments, you can optimise your hotel ADR and also mitigate the effects of seasonality which is vital to your hotel's rentability!
---
From her small village in the French Loire Valley, Florie was dreaming of traveling across the five continents. She took the opportunity of studying marketing and international business to escape to Russia and Germany. She then specialized in hospitality management through a Master degree from La Rochelle Tourim Business School.
Most Popular
---
Newsletter
Sign up for our newsletter to receive more articles like this one directly in your Inbox!
Subscribe
---
Tags
News & Articles
Read our latest news & Articles
In depth articles, guides, tips and advice about marketing your hotel business online and sell more rooms directly on your website.
8 simple tips for a great hotel website
Read More
Four basics steps to get your hotel on TripAdvisor Reviews
"TripAdvisor is the equivalent of word-of-mouth but on the Internet. Travellers use it to compare and choose what to do, where to eat and sleep. Would you like to get your hotel well ranked on TripAdvisor? "
Read More
GDS, OTA and Meta: What's the difference?
Read More
What is a Hotel PMS and why use one?
"A hotel PMS is a solution developed specifically to replace those complex Excel sheets you've been using to manage your daily hotel bookings, room inventories, billing, etc. There is a vast amount of PMS providers..."
Read More
Wait! Before you go:
How about getting our next post directly to your inbox?
We will only send you interesting and well written emails, once a month at most. We guarantee that you will learn from it!