Take Back Control
of Your Online Presence
With Your Own Website
Your Hotel Website should be at the centre of your online marketing strategy. It is your own, commission free, most powerful and profitable channel!
Compelling content and professional design will help you engage visitors and convert them into bookers.
Thanks to our managed service, your website will always be secured and up to date!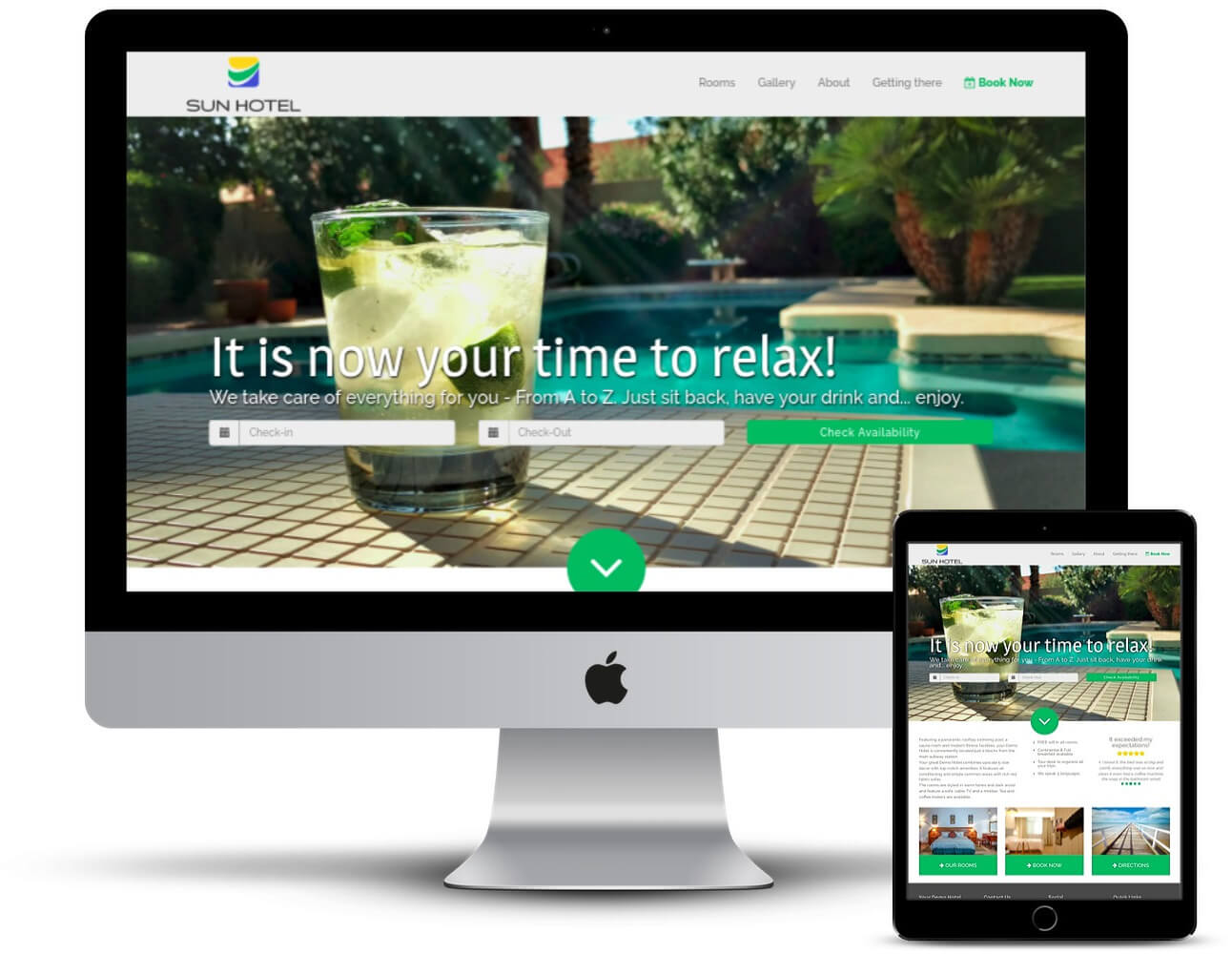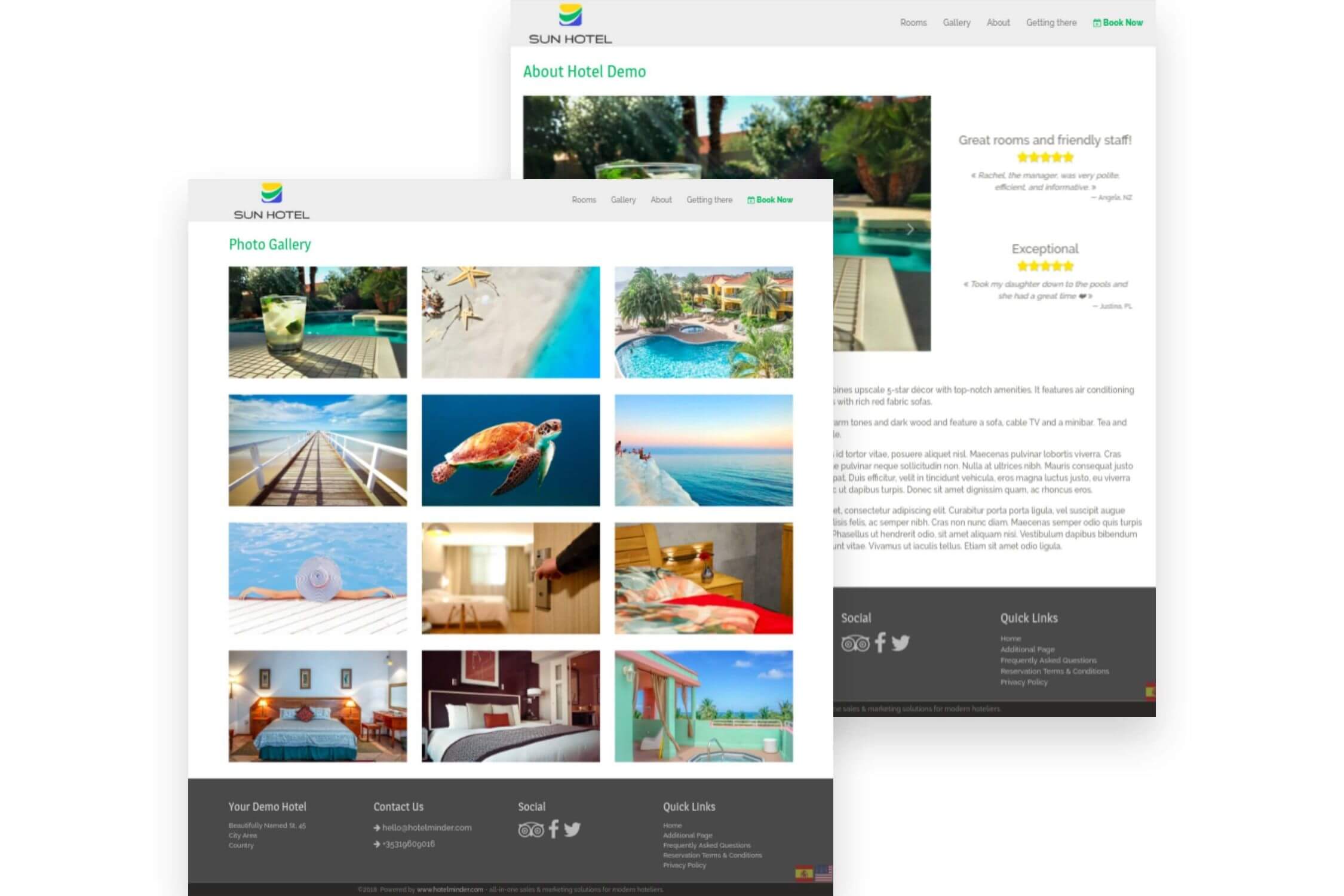 Managed Hotel Website
Our templates - designed with mobile users in mind - are fully responsive, fast, and secure.
Our designer main focus point is really simple: increase guest engagement to motivate direct bookings.
We publish, host, and fully take care of everything: It means you don't ever need to worry about content updates, uptime, security, etc.
Live Demo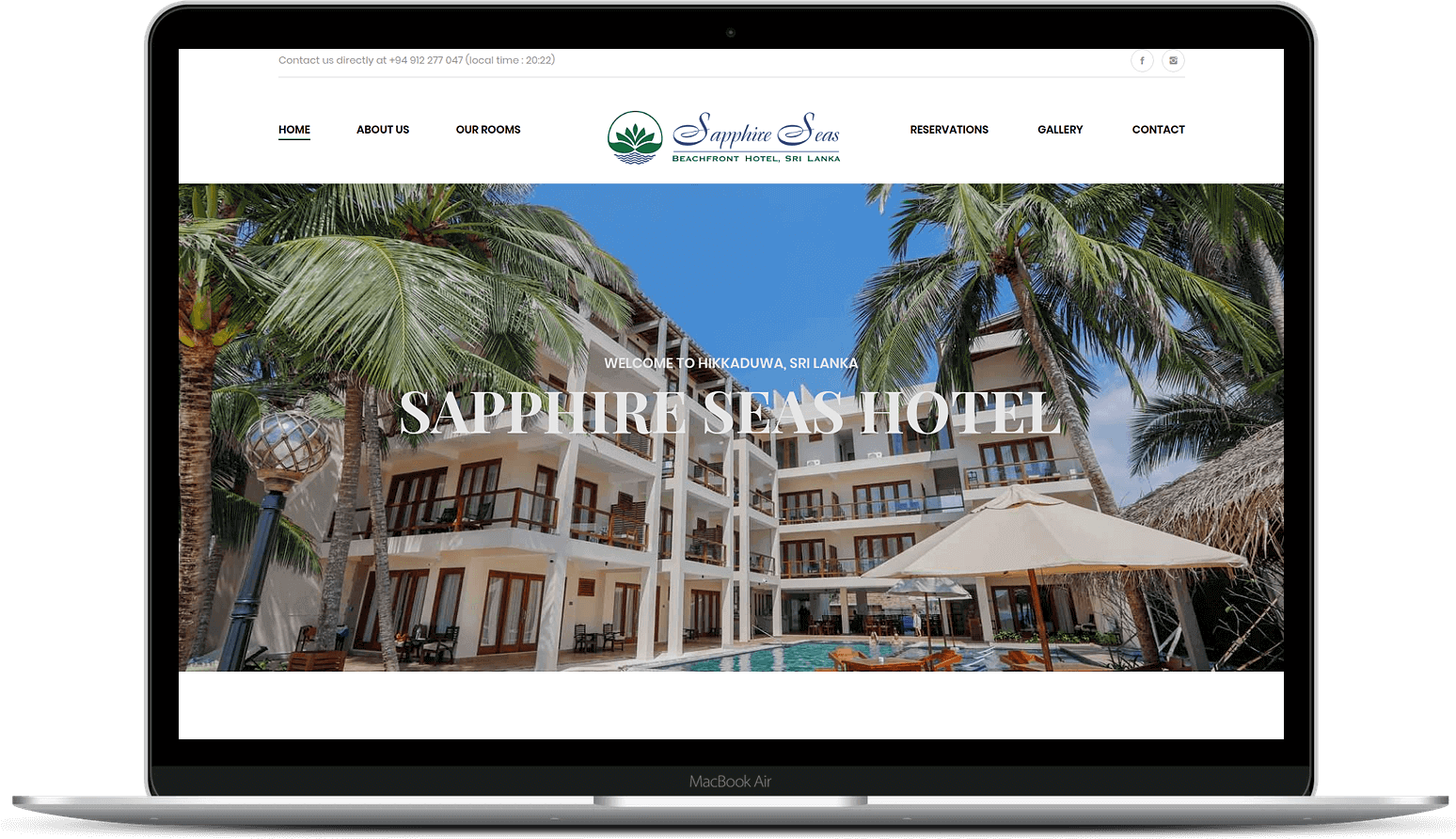 Bespoke Website Design
Make your hotel website the hub of your distribution strategy with a conversion driven website designed by one of our partner with the HotelMinder guarantee of quality.
Our partners will build your website the way you want it and for your guests to feel at ease, thanks to simple but elegant and functional design. Once done, the website is completely yours.
Managed / Bespoke Hotel Website Pricing
Basic
€
300
/year
Also available monthly
at
€
30
/month
Fully Managed Template Website
5 Standard Pages
Up to 15 Pictures Gallery
Booking Engine Integration
Complete
€
500
/year
Also available monthly
at
€
50
/month
Fully Managed Template Website
5 Standard Pages
Up to 21 Pictures Gallery
Booking Engine Integration
Up to 4 Custom / Additional Pages
Direct Booking Popup
Bespoke
from

€

2000

/once

With optional hosting

from

€

50

/year
Bespoke Website built on WordPress
Custom Design Template
Unlimited Pictures Gallery
Booking Engine Integration
Unlimited Additional Pages
Full Admin Access
Plugins Store Access
Hotel Website Add-ons
Below are our some of our most popular website addons. Prices will depend on your specific requirements.
Landing
Page
---
Great for SEO - We create custom landing pages to market your restaurant, bar or anything you want!
Content
Marketing
---
We review, proofread and update your content while optimizing it for your new website.
Booking
Strategy
---
We will build a direct booking strategy to motivate guests to book directly on your website.
SEO
Package
---
We optimize your online presence on Search Engines with keyword research and link building.
Managed & Bespoke Hotel Website FAQ
Yes: our websites are designed specifically for this. They are built with the best technology and look good on any devices. On top of that we can help you make sure you have an efficient direct booking strategy.
Once we have all the content including the photos, it will take a maximum of 10 working days for your website to be set online.
The setup is free: you will be provided with a form where you can add the content of the website and add photos. We will then build your website from it and make sure it looks good. As it's a lot of work on our end we will ask you to commit and pay upfront: 3 months if you choose the monthly plan (this means your monthly invoice will start 3 months after the day your website goes live); or 50% of the year fee if you choose the yearly plan (the remaining 50% will be due once the website is live).
Yes! We can write and copy the content of your website and make sure it looks crisp and perfect while being optimized for SEO. We charge 50% of your total yearly fee (for the monthly and yearly managed plans) for the above.
You will still need a domain name and an email address. We can take care of it for an additional yearly fee (ask us for a quote). Hosting is fully included with the Managed Website at no additional cost.
There's no contract: you can stop whenever you want but we will not refund any paid invoices.
Not with the Managed Website option, and it's the beauty of it: we completely take care of this for you. You can send us an email at anytime to request a change and it will be done swiftly.
Yes, absolutely. In fact we recommend this as it's a good thing for SEO! For the Managed Plans, we charge a 20% of your plan yearly fee for the setup, and then 20% of your yearly (if you are on a yearly plan) or monthly (if you are on a monthly plan) fee at each billing cycle and for each language. We can even take care of the translation for you - just ask us for a quote.
It depends on your needs, your requirements and your Direct Booking Strategy! We offer many different options in our
Booking Engines Marketplace
. We can integrate virtually any Booking Engine nicely into your website.
Why Get Your Website with HotelMinder?
Boost Direct Revenue
More direct reservations means less commission to OTA platforms and more profitability for your business!
Increase Conversions
A modern, fast, responsive and elegant website will provide guests with a pleasant experience and they will book directly.
Use the Latest Technology
Our managed solution is hosted and distributed on Cloudflare CDN. Google Analytics is installed by default so you have access to visitors data.
Integrate Any Booking Engine
You're not restricted to one Booking Engine System. You can switch to whatever system will offer you the best conversion.
Be Secure & Compliant
Our websites are fully encrypted with SSL and fully GDPR compliant: it will let guests know you're serious about their data.
Be on the Top Of Google
We built our templates websites following SEO best practices to help your property website show at the top of the search results.